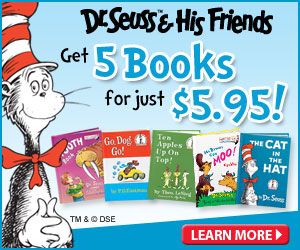 Here's a fun deal for Dr. Seuss fans from
EarlyMoments.com
!
Sign up for Dr. Seuss & His Friends book club and get five hardcover Dr. Seuss storybooks and a free activity book for just $5.95 shipped!
To get started visit
Earlymoments.com
. Sign-up is super quick–takes about a minute!
Dr. Seuss & His Friends is a monthly book club. Customers are automatically charged and sent additional books each month. Members are able to cancel the account at any time.
Disclosure: This post may contain one or more referral links that may yield commissions for Saving With Candy at no cost to you. See Saving With Candy's disclosure statement for more details.