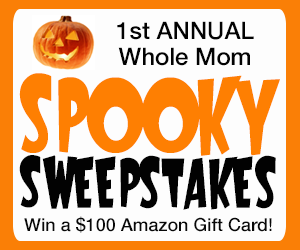 Want to try your luck this Halloween season? You can
enter to win a $100 Amazon Gift Card
in the 1st Annual Whole Mom Spooky Sweepstakes. No tricks! Just treats!
Win a $100 Amazon Gift Card from Whole Mom this Halloween
! Winner will be announced on Halloween. It's simple to enter, all you have to do is go
HERE
and fill out the short entry form. That's it! Entries must be made by Wednesday, October 30th, at 11:59 PM PT.
Good luck!
Disclosure: This post may contain one or more referral links that may yield commissions for Saving With Candy at no cost to you. See Saving With Candy's disclosure statement for more details.
If you would like a daily list of the items posted on Saving With Candy, you can
sign up for my daily email here
. You can also visit us on
Facebook
,
Twitter
or sign up for my
RSS feed
!