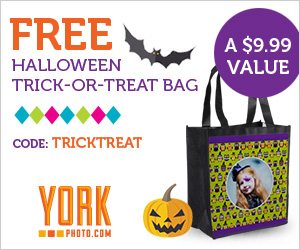 There are some really cute Halloween designs or create a bag you can use year-round for groceries, beach vacations, trips to the park, and more! Hurry, expires 10/31.
Don't forget about the Halloween Tote Bag for $4.99 shipped from InkGarden right now too!
Disclosure: This post may contain one or more referral links that may yield commissions for Saving With Candy at no cost to you. See Saving With Candy's disclosure statement for more details.
If you would like a daily list of the items posted on Saving With Candy, you can
sign up for my daily email here
. You can also visit us on
Facebook
,
Twitter
or sign up for my
RSS feed
!