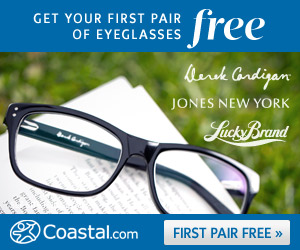 If you're in need of a new pair of glasses or maybe it'd just be nice to have a different style, don't miss out on your chance to snag a free pair of glasses.
Coastal.com
is offering up yet
another
chance to snag a free pair of glasses (and free 1.5 single vision index lenses!).
Here's what you need to do to snag your free glasses…
* Head over to
Coastal.com
and pick out your favorite frames.
* Enter the promo code
FIRSTPAIRFREE
at checkout (keep in mind that this promo code is for new customers only)
* Head to checkout where you'll need to pay shipping and handling charges and the costs for any lens upgrades
Fine Print
* This promotion is for first time Coastal.com prescription glasses customers only.
* One free pair of glasses per customer per prescription.
* We reserve the right to verify all prescriptions.
* Valid for coupon eligible frames only.
* To get your free pair apply the coupon code
FIRSTPAIRFREE
at the checkout.
* 1.5 index lenses included for free.
* Lens upgrades including: higher index lenses, progressives, Transitions, polarized and all lens coatings are available at additional cost.
* Shipping costs may apply, which is typically up to $20.
* Cannot be combined with any other offers.
* Valid for residents of the United States only.
* Coastal.com reserves the right to cancel orders that appear to be in violation of this promotion.
Disclosure: This post may contain one or more referral links that may yield commissions for Saving With Candy at no cost to you. See Saving With Candy's disclosure statement for more details.
If you would like a daily list of the items posted on Saving With Candy, you can
sign up for my daily email here
. You can also visit us on
Facebook
,
Twitter
or sign up for my
RSS feed
!